How to Read Someone's Text Messages Without Having Their Phones?
This monitoring software hacks the target device and sends the activity report to your device. There are several online hacking or monitoring software that allows you to read text messages without your phone.
How to Spy Text Messages 2019 - Read Someones SMS Secretly and Remotely
It is indeed the best mobile monitoring app for iOS as well as Android devices. You can also view call logs, browsing history, locations, photos and videos, social networks, and other details of the target device. The monitoring app was developed for child protection reasons, but it can be used for multiple purposes. This kind of monitoring app is also used by couples to persecute their partners and to see if they are cheated.
Disclaimer
For instance, TTSPY allows monitoring of caller lists of your target as well as all related data will be delivered to you. You can also block apps and even the Internet on the target device, blocking access to certain apps for a certain amount of time. Social Network History-Social networks are an important part of Internet usage today. Therefore, if maybe you want to follow someone, tracking the individual social networks akin to Instagram, Facebook, Snapchat, phone SMS, WhatsApp, and so on, is very essential. TTSPY makes this possible, so you know exactly what your target object does on social networks.
View calendars and notes — A good monitoring app also provides the ability to monitor calendars and notes from the Android or iOS target device. This will tell you what the person you are monitoring is planning to do in the next few days. Follow these steps to learn more about reading messages remotely without the phone using monitoring app —.
How to Read Someone's Text Messages Without Their Knowledge.
spyware phone home!
Cellphone surveillance.
spy mobile android free.
spying mobile app.
How to Spy on Text Messages Without Installing Software to Target Phone.
Step 4: Set up TTSPY, or any other monitoring apps of your desire according to the operating system of the target device! Allow permissions on the app and click on Start monitoring. Wait for the spy icon to disappear. Check the iCloud ID and you can start monitoring. Step 3: Click on the tab News in the left area and you can read the messages of the target person. If your partner behaves suspicious, you have to be careful. You will be able to find out if the other person is cheating on you or not.
Using mobile Monitoring App is easy, and you do not need any technical knowledge.
You will not be disappointed by this mobile Monitoring App features — guaranteed! They can monitor chats on various messengers, including Viber, WhatsApp, etc. You can monitor everything on iPhone or Android device; we suggest downloading a free trial version. Later, you can choose between two packages with a bunch of various features to buy online. This quality software will help you to become a professional detective!
Part 1: How to Read Someone's Text Messages Without Their Phone
Flexispy — use this program if you want to get a remote control of smartphone. This software can help both parents that want to control their kids as well spouses if they suspect their partner is cheating.
The program is simple; it has user-friendly, simple interface. It can be used on any device, including smartphone, tablet or computer. You can easily track your family members, including your relatives, children, and spouse — huge number of people use this program to locate various people they love. It allows monitoring daily location of the person and controlling the phone from distance.
We hope this article was useful. Make your life calmer and may your days be brighter in a simple way.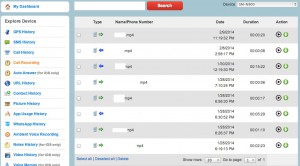 Top Spying Apps. Read Someones Text Messages Without Installing Software on their Phone In our era of high technical progress, people use many devices that provide them with a full access to the Internet.
Spy on text messages | FREE Text Messages Tracker for Android
Define Your Goals You need to understand what data you need to get before starting. We suggest trying our top 5 apps in next paragraph, this may be helpful in choosing. Usually, providers give detailed instructions about their products; remember you should follow them. If you are going to use prepaid apps, you should count how much all charges will be.
Check out if the software fits your mobile system. It also has some extras you won't find anywhere else. The app is, far and away, the best cell phone spyware. It has both a non-jailbreak and jailbreak version, simple installation, intuitive control panel, and very competitive pricing. While the app's features are more limited without performing a jailbreak, the full version of the app has everything you could possibly want, including monitoring GPS location, SMS text messages, and all the popular social chat apps.
While it doesn't offer some of the advanced features like call intercept or call recording of my 3rd choice, this cell phone spyware offers the most value overall. Spyfone is the best spy app for Android, and is a close second to mSpy in terms of reliability and support. It's geared towards monitoring the phones of your children, employees, spouse, or whoever. This phone tracker app can be installed with or without permission and configured in minutes, making it a good choice for those who are less tech savvy.
The only downside and only reason it came in 2 is that that they don't have a version for iPhone. In terms of features it actually comes out ahead of mSpy. In addition to all of the usual features, you can also live stream the microphone and the camera front or back anytime you like. This allows you to see and hear everything going on around the phone whenever you like. The user dashboard is also probably the cleanest and most intuitive of any of the spy apps I've tested.
It's even got a GPS position history feature that shows you everywhere the phone has been in the last 24 hours. Both jailbreak and non-jailbreak versions offered. Advanced features such as Facebook Messenger and Instagram monitoring require a jailbreak. SpyFone is one of the best cell phone tracking apps on the market. This phone tracker doesn't have as many advanced Android spy features, but it still has some of the most important Android capabilities at a much lower price. If you are on a budget, this is a great choice. In addition, SpyFone also offers a one-time payment instead of monthly plans.
Yes, it is missing some advanced features like recording calls, ambient recording, and turning on the phone's camera, but it is still a robust package to spy on someone, and it is worth considering.
best mobile phone tracking software.
iphone 8 Plus sms spy free.
gps location spy for android;

Basic support is available, but it is not as easy or as helpful as mSpy. You will be required to submit questions on their website, which are answered in a queue format. FlexiSPY is the best spy app made specifically for iPhone. It has all the features of mSpy and a few incredibly powerful features not offered by any other mobile phone spy software out there. You can read more about the app in my full FlexiSPY review. If you're comfortable with technology and are willing to spend a bit more, FlexiSPY is the best spyware for iPhone and a great Android spy app as well.

This powerful cell phone monitoring software will allow you to keep track of just about everything that happens on the target phone remotely.